Curious about the densely packed clusters of green leaves popping up everywhere on your outdoor walks this time of year? For too many years, I strode by the very fragrant scent of wild garlic thinking about picking some but never prepared for my walks with a bag to carry or seemed to have the time. However, as 2021 is all about change and a new 'normal' it's time to pick some wild garlic.
More commonly called wild garlic, this perennial is as much a signal of spring to me as birdsong, snowdrops and all those flighty spring flowers — 'tis here but a moment. Not these herby plants, they hang around for a while, first bounding across a forest floor with verdant delight in early spring. It does a body good to see it, plus you can pretty much follow your nose to find it with its mouthwatering scent. We figured if we're curious at least a few more of you may be too.
Here's a quick guide to the peppery perennial:
A sea of green — where will I find it? Where can't you find it is the real question. Wild garlic is found across the UK from late winter through to the end of spring. In April, those green leaves are bedecked with a starry white flower delighting your senses. The Woodland Trust says its appearance is a sign of ancient woodland and the reason it's found along streams and rivers is because it likes those damp conditions. It can also found nestled in hedgerows.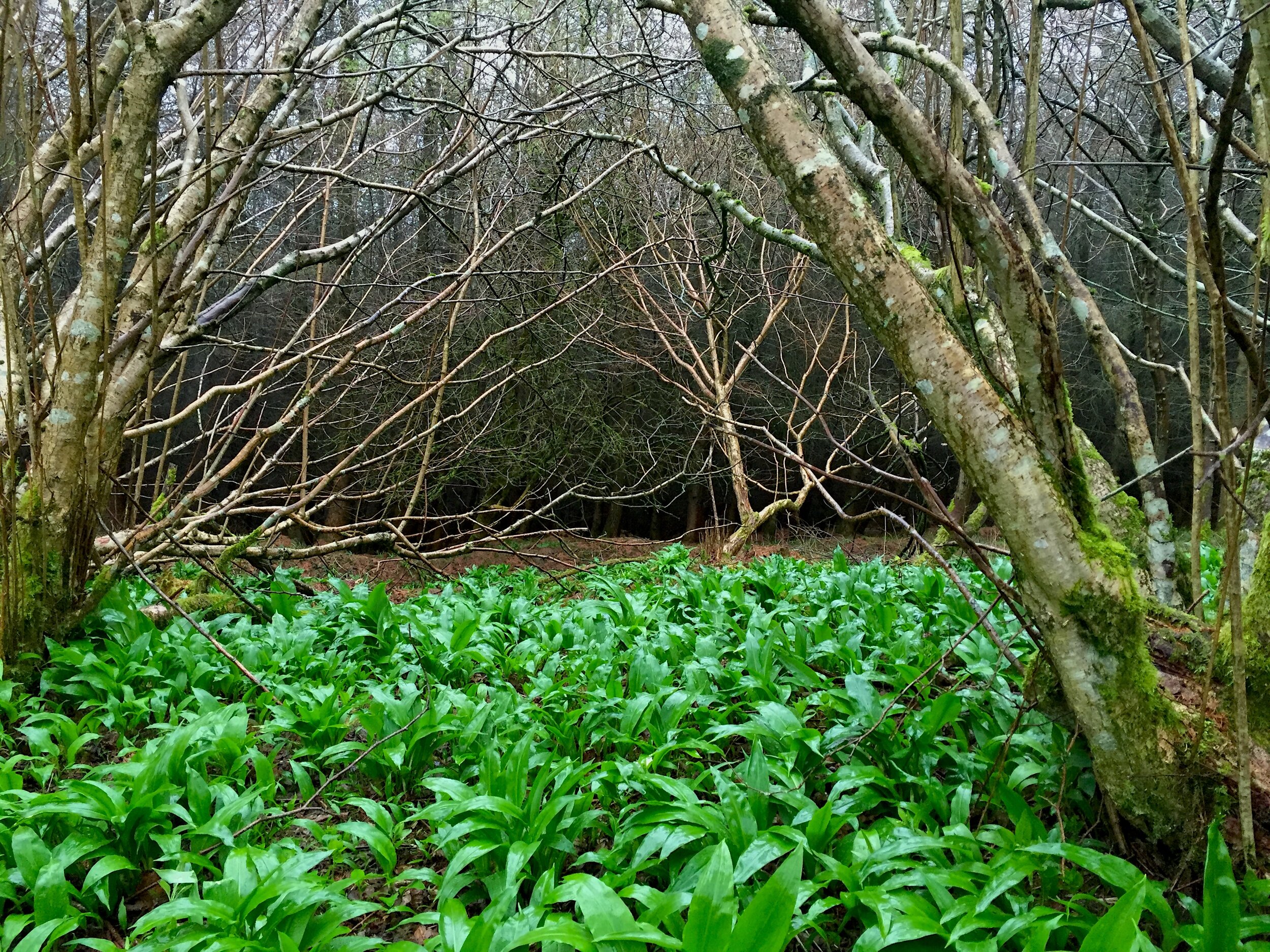 If I see it, can I eat it? Fortunately, you don't have to be a forager par excellence to pick them. There are numerous guides to advise on what to look for and how to prepare this nutritious and plentiful free food. Even the flower bulb is edible.
The flavor is mild, sweet and very delicious and can be used in a variety of dishes and the leaves can be eaten raw in salads and pestos. But be warned, it looks similar to lily of the valley before it flowers, which is poisonous when consumed. So, do yourself a favour and gather your information before you gather your wild garlic!
Common as… This native plant goes by many names too. For the bods that need to know the scientific reference, it's called Allium ursinum, but other names are tantalising: bear leek, buckrams, broad-leaved garlic, wood garlic, ramsons and wild cowleek to name a few. The name ransoms apparently comes from Irish folklore and is a metaphor for bitterness . Wild garlic also has a long history as a medicinal plant.
That's nice so, where can I find it? Local haunts to find carpets of wild garlic are below Sunny Dingle in Mortimer's Forest. Or, better yet book a foraging course such as this one through The Wild Food Trust UK, held every Sunday from April through to July. It's a 2 1/2 hour trek around the forest on the Dudmaston Estate, close to Bridgnorth. It promises not only an introduction to the foraging and countryside code, how to identify the different edible and poisonous plants, flowers, fruits and mushrooms but also homemade seasonal lunch. Spaces are still available for April but book quickly, there are only a few spots left for later months.
Let's eat! We love this Rosie Birkett recipe found on her marvelous blog and promise you will too. It serves around 8 – 10 and she says they're best eaten on the day, warm from the oven spread with cream cheese spiked with mustard. Gorgeous!
Wild garlic and cheddar scones
INGREDIENTS
350g self-raising flour
1½ tsp baking powder
½ tsp cayenne pepper
½ tbsp caster sugar
85g chilled butter, cubed
150g grated cheddar cheese
60ml milk
100g buttermilk or natural live yoghurt
20g wild garlic leaves, chopped
1 egg, beaten, to glaze
FOR THE MUSTARD CREAM CHEESE
150g mascarpone or cream cheese
1-2 tsp English mustard
METHOD
1. Heat the oven to 200C (220C non-fan). Line a baking tray with baking paper.
2. Sift the flour, baking powder and ½ tsp salt into a bowl, season with cayenne pepper and stir in the sugar. Tip in the butter and rub it into the mix until it resembles coarse breadcrumbs. Add in the grated cheddar cheese, mix through until it's well combined, then chill in fridge for 5 minutes.
3. While that's chilling, combine the milk, buttermilk and chopped wild garlic leaves with a pinch of sea salt in a small food processor. Grind to a green-flecked liquid.
4. In a bowl, mix the mascarpone and 1 tsp of the mustard until well combined. Taste and add more mustard if you like it punchier.
5. Take the scone mix out of the fridge and pour over the wild garlic mixture, combining and cutting it in with a butter knife until you can use your hands to bring it together into a smooth dough.
6. Roll the dough around the bowl to pick up any crumbs and fold it over itself until it has a smooth consistency, handling it lightly so as not to overwork it. Cover with a clean tea towel and leave to rest for 15 minutes.
7. Turn the dough out onto a floured surface and lightly pat or roll (again, without overworking it) into a circle about 3cm-4cm deep. Use a scone cutter (I used a 7cm one) to cut out scones, reforming the scraps of dough and continuing to cut out scones until the dough is all used up.
8. Put the scones on the baking tray and rest them for 20 minutes. Wash the tops with the beaten egg, imprinting them with some small leaves if you have them and egg washing over them. Bake the scones on a high shelf for 12-15 minutes until well risen and golden brown.
9. Remove from the oven and settle for at least 15 minutes before serving with the cream cheese, or failing that, lots of butter. Just steer clear of jam with these babies.