I love the tradition of British afternoon tea — an edible bridge served between lunch and dinner time when your blood sugar drops. It can be formal or informal. You can make it more decadent by adding champagne to your list of libations. It's also decidedly luxurious to indulge a portion of your day to nattering with friends over a pot of tea, stacks of perfectly groomed sandwiches with all sorts of savoury fillings and all the yummy dimples of sugary delights.
Afternoon teas remain a special treat and where you have your tea is part of the tradition and the fun. These days unusual venues are part of the lure of a special tea time. They are held on roving double decker buses or tucked away in back rooms of pubs. Of course, less unusual and more traditional are hotels and any worth their salt will offer a high tea.
In the Ludlow area there are plenty of options for special high tea, we feature four spots around town and two that are well worth the travel for afternoon tea. Most restaurants cater to all dietary requirements and have gluten free options, but do check ahead and booking in advance is required.
For a luxurious outing in a very quiet and scenic view of the countryside try this upscale hotel and restaurant. Enjoy tea in the restaurant or out on a sunny terrace at Fishmore Hall. They promise a variety of carefully crafted patisserie along with finger sandwiches, wraps, brioche buns and scones with clotted cream and home-made berry compote. Accompanied by a selection of fine teas, coffees and Champagne. View sample menu
Cost: £24.50 per head
Tea time: Served between 3- 4:30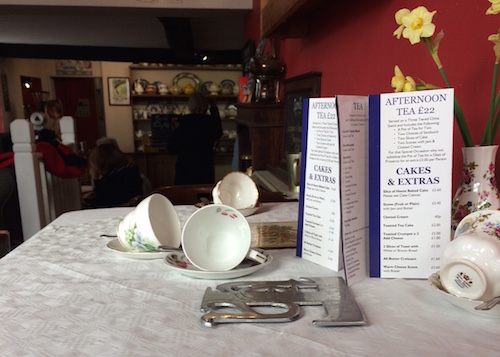 Quaint doesn't begin to describe this family run restaurant and tea room situated in the centre of town. For a nostalgic vibe, gather a couple of friends and find a comfortable nook or table in this rambling idyll set over two floors to enjoy a traditional afternoon tea served on fine vintage bone china. Carvell's offers a selection of high quality loose leaf teas and home-made baked goods as part of its afternoon tea menu. It's best to book via the Facebook page as the owners grapple with the phone company to get their phone lines fixed!
Cost: £22.00 for two
Tea time: Open 9 – 4 pm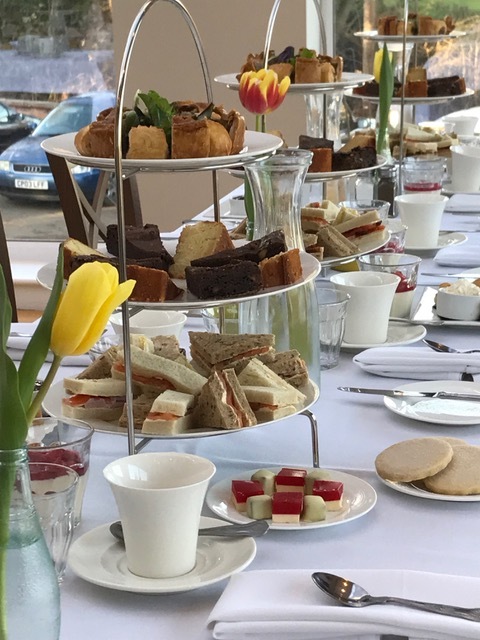 For big groups looking for something extra and special, The Cliffe at Dinham, only a few minutes walk from Ludlow's town centre, is ideal. This hotel and restaurant caters high tea only to large groups of 20 or more and would suit walking, cycling groups or serve as a wonderful alternative to a wedding lunch. Its picture perfect too, nestled as it is on the edge of the Oakly Park Estate, close to the river Teme. Originally, a mid 19th century gentlemen's residence built for a local solicitor, it was revived five years ago by Ludlow hoteliers, Paul & Barbara Brooks.
Cost: Group offer only £22 for full Afternoon Tea Menu
Add Some Fizz (175ml glass)
Prosecco Spumante   £5.75
Champagne, Henri Favre Brut £7.95
Time: Booking required
If it's an old fashioned afternoon tea you prefer then head to The Castle Lodge Buttery. Situated on the corner of the Market Square with prime view of the Castle, The Buttery is a well known and popular venue for locals and tourists alike. Afternoon Tea includes a selection of homemade sandwiches on fresh local bread, mini sausage rolls, homemade cakes and scones (with jam and cream, of course), quiche and wraps. If you want to kick it up a gear, order the deluxe version with additional delicious desserts.
Cost: £9.95 / £14.95 deluxe
Tea time: Booking required
Head to the Walled Garden at Millichope Park for a sumptuous high tea set amongst the Shropshire Hills. Sip tea and eat homemade cake as you take in an inspirational plantsman's garden, where beautifully restored Georgian curvilinear glasshouses form a magnificent backdrop. The tearoom, which opened in 2016, is in a purpose built timber frame building that complements theGeorgian glasshouses that it sits alongside, providing a relaxed and convivial atmosphere with seating available outside. There is wheelchair access to the tearoom and disabled WC. Open from March to October you must book for afternoon tea.
Cost: Call ahead
Time: Open Friday to Sunday only
Finally, we appreciate our list is not exhaustive, but if you are travelling around Shropshire in the summer, The Great Shropshire Hills Cream Tea map should come in handy. Personally, I think it's a grand idea to plan a route based on high tea pit stops. Moreover, you can have the satisfaction for casting a vote on which cream tea is the best for the Great Shropshire Hills Cream Tea award.
The cream tea trail initiative is also aiming to boost the profile of our local damson fruit and, to literally, put it on the map. Hopefully, you'll find this Shropshire specialty served as a preserve along with other favourites at all the venues.
We would love to hear your thoughts on the best places for cream tea so make a comment!