1. Tell us a bit about yourself and your journey to becoming a money coach?
I have been fascinated by money since I was 18 and had a part-time job waitressing. I noticed that by giving customers the particular services they desired, they enjoyed the experience more and I got better tips. For example, in a restaurant, business people hope for a professional service, tourists want a chat and local information, and families want the kids taken care of.
I applied this learning to my first business, hiring out tablecloths in my 20s, and won the Best Customer Service Award in the UK. Everyone wanted to know how I did it. I created my money-coaching session to shortcut all the books and courses I'd done, and re-trained as a business mentor, to help people achieve their business potential. This is what I am passionate about.
2. What brought you to Ludlow and what does living in the area mean to you?
I love living in Ludlow and have been here since 2004 although, I visited for many years before that as my brother is married to a wonderful local girl. Within three months of arriving, I met my husband, another resident of Ludlow, so I look forward to living here for years to come. I love the people, the shops, the services, and of course it's such a beautiful place. I feel very lucky to be living here during lockdown.
3. You're about to launch this year's Nurturing Business with Pink Flamingo marketing, how did you and your business partner, Chloe, meet and how will you help businesses?
Nurturing Business is a lockdown business, started last July, and is designed to support self-employed people working from home. We offer online weekly co-working, support, accountability, and expertise, to nurture yourself and your business.
Chloe Morris from Pink Flamingo Marketing and I met a few years ago at a networking group. We wanted a positive, confidence boosting environment that wasn't about selling or one-minutes pitches. We meet every Monday at 12 noon for 90 minutes, and our most popular feedback from our members is how much they get done. Our next three-month round of Nurturing Business opens in April. You can find out more and book here.
4. How important is it for you to network with local business women?
I really enjoy having a local business women's network in Ludlow. When I first moved to town, I joined a network, now called the Ludlow Women's Hub and am still friends with some of those women today. I learned about the town, local events, where to buy things from and got to share the highs and lows of running a business.
5. Times are tough for small businesses everywhere. What are your top tips for business owners as Ludlow unlocks?
I have been asked this question a lot in the last year, particularly about money so I have put together my Guide to Financial Wisdom – available free from my website. From a business perspective, instead of the usual business tips about making a profit and taking care of your customers, why not take advantage of the Budget to think bigger?
---
Jenny Bracelin, Money Coach & Business Mentor from I Explain Money.  Please connect with Jenny on Instagram / Facebook / LinkedIn
---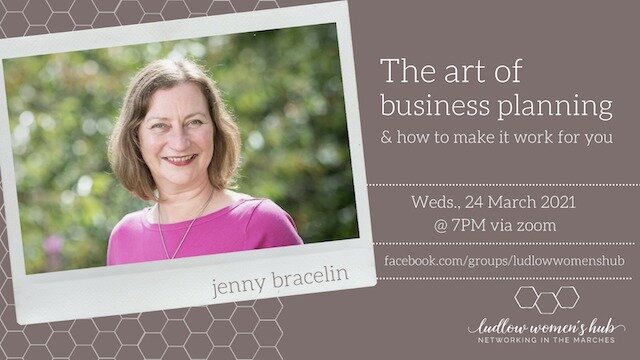 Ludlow Women's Hub is open to all local business women and continues to meet up and chat in a virtual space on the third Wednesday of every month. You can join the group any time by registering on their Facebook group.
Jenny is giving a talk on The Art of Business Planning next week, Wednesday 24th March 2021 at 7pm via Zoom. Just join the Ludlow Women's Hub Group Chat for the Zoom link.