Meet Jessica Laurie, founder of Cinnabar, a new eco-conscious lifestyle online shop featuring a unique and somewhat eclectic collection of things to wear, to look at, to use and to play with.  Sure all the products have green credentials but they are also of excellent design made with care and attention to detail.
Jessica, who grew up in Ludlow and has resettled here, writes about her desire to tread lightly on our precious planet and the journey of becoming an independent maker and founding Cinnabar.
---
Never in a million years did I think I'd end up back in Ludlow. I grew up here not appreciating its beauty and tranquility. After studying in Birmingham, living briefly in London and so nearly starting a new life in Sussex, I ended up back here making things in my Dad's shed. I worked for the wonderful Adam Tutt at The Globe and he gave me the opportunity to try and sell some of my work (a very abstract standard lamp). I called on an old school friend for a bit of help and 10 years later we have two little boys and call Stanton Lacy our home.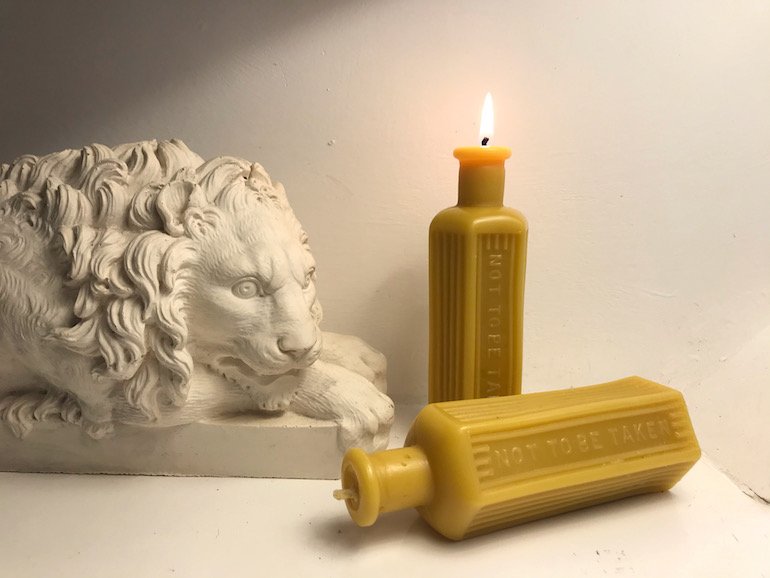 Protecting the environment has always been important to me, making sustainable lifestyle choices and trying to be a conscious consumer. I've recently started working with the Shropshire Hills AONB where we will be working with a group of young adults on a campaigning/conservation project. Getting young people excited about nature is so important.
I've always liked making things too – I set up a CIC called Jessica Found It which ran for 5 years where I rescued discarded material and turned it into lighting and homewares. I delivered creative workshops in various settings too, always with  an element of recycling and reuse.
Since having children I wasn't making much, but during lockdown while on maternity leave, the itch returned and Cinnabar was a way to scratch it. I almost called the website The Good Moth, a moth has that ethereal, slightly dusty feeling of a good old junk shop but feedback from friends wasn't positive — I made a linocut of a Cinnabar moth and there the name appeared.
Tiny department store: Green, aesthetically pleasing
Having a platform to sell my own work, promote other makers, share simple sustainable options and highlight the possibilities of being green and aesthetically pleasing are the bones of Cinnabar. I call it a tiny online department store because there is a bit of everything on the site – from jewellery to toys to kitchenware to litterpickers. Perhaps a little chaotic, but I hope it's curated in such a way that people understand the ethos.
Working from home and having Ludlow on the doorstep (where my parents still live) is frankly, blissful. To be surrounded by green I see now makes us some of the luckiest people. To have access to good quality food producers and a welcoming community is wonderful. To be able to stomp over the Whitcliff in all weathers — well, you all know how good that is!
I'm working with the Ludlow Fringe Festival too and next year we hope to involve the entire community in a big Eco Carnival — really bring everyone together for a vibrant creative day of fun.
---
 To view the full range of products, visit the Cinnabar website. Use this code for a 15% discount on orders over £25 LOCALFOLK