After a bummer summer, I feel like I don't remember the last time I saw the sun for a three-day streak. On top of it all, there hasn't been a real break this year – heartbreaking, I know – then it hit me. Holidays don't require fit-to-fly PCR tests or driving hours for a get-away with a million other people (Cornwall, I'm talking to you). I can do something rejuvenating within the vicinity, easy on the pocket. I get a few credits in my environmentally friendly account for staying close to home.
Massage, spa and tea for one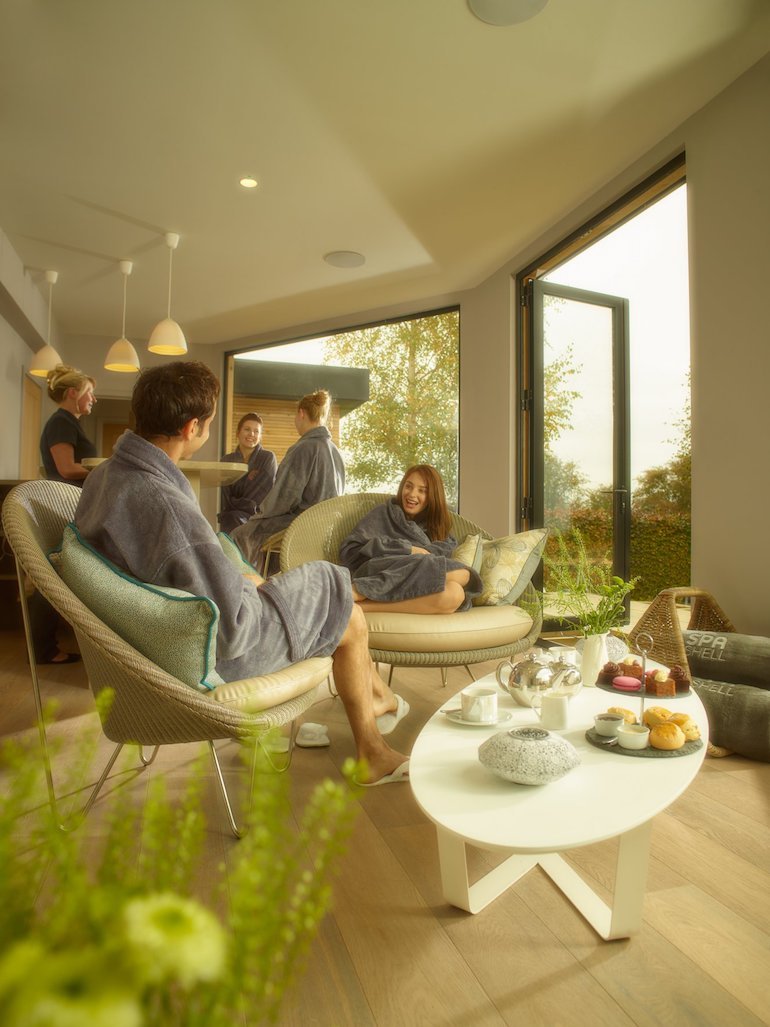 Folks, I took a spa day! Not just for wedding parties. An incredible half day booked mid week, which felt decadent, in a blissfully serene environment at Fishmore Hotel. I had the Full Afternoon Tea Spa Package, which included quality time in the spa, darting between the steam room and the sauna. The hot tub was occupied sadly but there's always a next time. Then I was called to my deep tissue massage after which I floated across to a barely well-earned sumptuous tea to round out my mid-week retreat. Perfect way to unwind. Booking it in the week is way better than having it over a weekend where the benefits are depleted by Monday afternoon. I felt like I had been zapped with an electric bolt — in a good way — energised for the rest of the week.
To book your own spa break or retreat contact Fishmore Hall Ludlow
Idyllic autumn walks from The Riverside at Aymestrey
If you want to decompress and de-stress, how about a quick break at The Riverside at Aymestrey? It's got all the feel-good factors of good walks followed by good food or vice versa. Sure, if you live in the Ludlow area, we're surrounded by excellent walks on our doorstep, but there is something about booking a place to stay and then setting out to explore. We do it all the time, willingly travelling overseas, spending lots of time in the air and at airports, booking a hotel, and then we spend hours walking around, just looking at things! Why not do the same but close to home?
Just a few miles south of Ludlow in Herefordshire is this very quaint and welcoming 16th century pub with rooms. It's one of the top spots where chefs appearing at the Ludlow Food Festival choose to stay. It's also a place for that special meal when guests arrive because of its charming location.
I recommend sparing a night or two this autumn to stay at The Riverside's newly refurbished pods situated at the top level in a tiered garden, where you can also sit and have a drink. Pull on your hiking boots and roam the Herefordshire countryside. The Mortimer Forest is a quick nip across the road. A few miles further is the Wigmore Castle ruins or take the Pokehouse walk to Croft Castle right from the pub door. Another highly recommended walk is over to the architectural wonder that is Shobdon Church (do check opening times) and Shobdon Arches.
For more information and to book your stay contact The Riverside at Aymestry
Pure feel good treats at Riverside Beauty
Beauty treatments are another classic de-stresser that truly works. It's solid 'me time' and it makes a body feel good. Increasingly, the beauty industry is now openly recognising the long-held mental health aspect for many seeking treatments. It's the ultimate quick fix if you've had your fill of video calls and being stuck to your hastily constructed home office for lengthy hours.
A favourite place for me for a quick pick me up that won't break the bank is Riverside Beauty in Lower Mill Street in Ludlow. It helps that it also occupies a serene setting on the river Teme, well away from the 'hubbub' of Ludlow. I tend to do the manicure or pedicures but have it on good authority that their Elemis skin treatments are very good and it's on my calendar to book a session. It's best to book in advance for any of the range of beauty treatments available at Riverside Beauty as they do fill up quickly. Most treatments are around an hour-long, which should suit those short on time but in desperate need for a shot of rejuvenation! Upon arrival, you're greeted at the door by your therapist and escorted to a treatment room for your choice of body massages, Elemis skin treatments, pedicures and manicures, tanning and more.
To book your treatment contact Riverside Beauty
More mini mindful-me break ideas…
The Church Inn (top tip: get the balcony room overlooking St Laurence's Church)
All the Beauty spots
For a full list of local beauty salons, visit our A-Z Directory