I step outside and go for a walk. I take a sturdy stick to help myself up the steeper inclines or for a surer footing when I'm on a slippery descent.
I ensure the footing gear is comfortable, and I am clothed to protect myself from brambles and long grass. If I feel like it may be a long ramble, I sometimes take a blanket, a snack and water.
There's nothing like going out for a walk. I allow myself to think. I gaze around me and try to keep my eyes truly open. I may take the same paths repeatedly, but nature changes them daily.
We talk excitedly about our walks at Let's Go Ludlow, but how best to share them with you? By doing it with pictures, folks.
We've discovered that descriptions and maps are sorely lacking online regarding walks in our areas. We regularly walk, so sharing where we go with you is easy.
The route
Mortimer Forest – beginning just under a half mile away, heading south from the Forestry Office on Killhorse Lane. The route takes you through the Bringewood part of the forest, regularly used by mountain bikers, so beware.
Time: 60-90 mins at a moderate to slow pace
Distance: Roughly 4.71km or just under 3 miles
Route: Moderate with two steep inclines and one steep descent
Begin at the path next to the 'Welcome to Shropshire' sign and descend until you reach a bench and the main forestry road. Soak up your first view out to Craven Arms and Ludlow town. Take the path in front and continue down.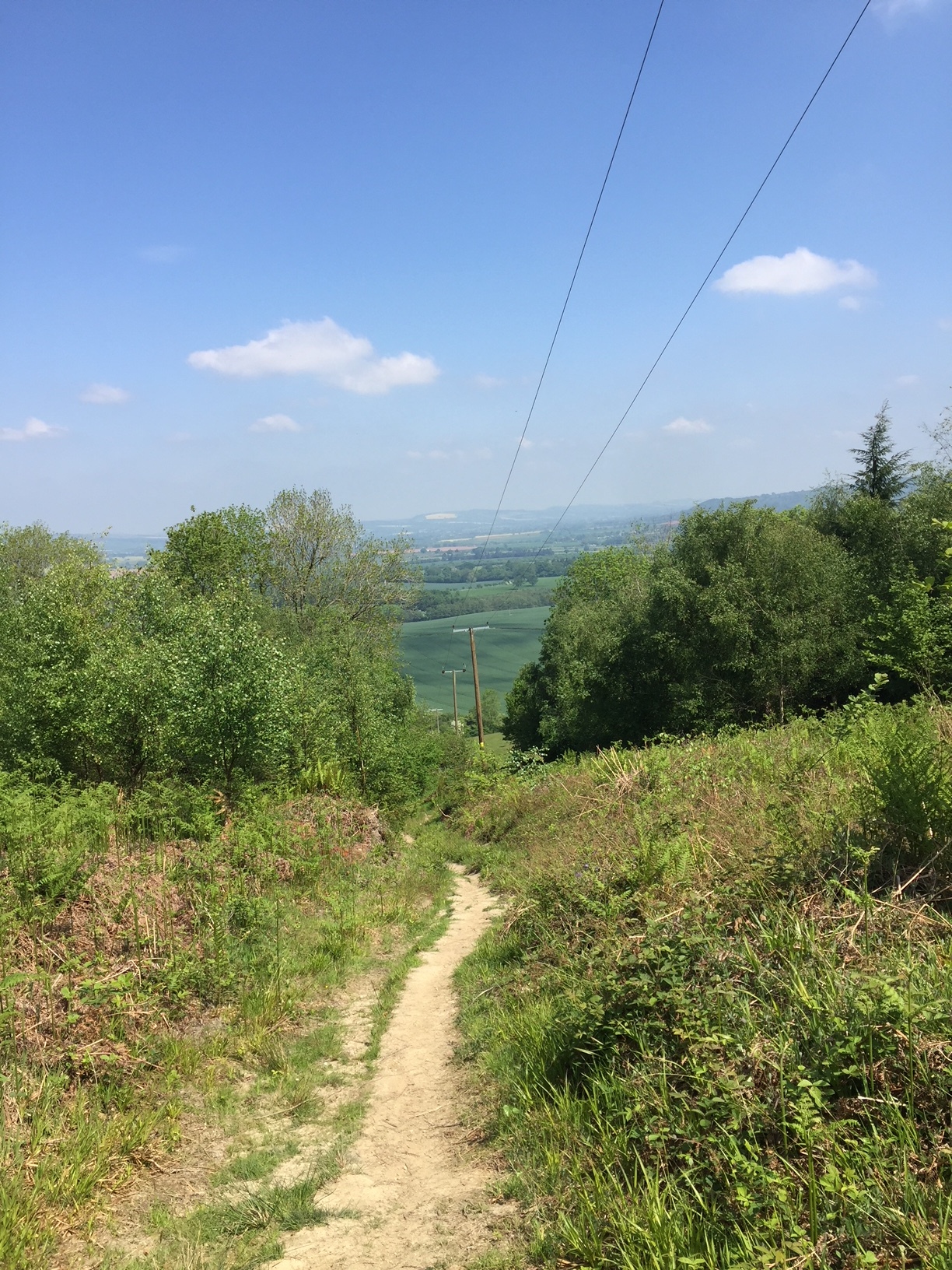 Continue downhill and when you reach the bottom, take the path to the left. Wander through this leafy silence dotted by ferns and bluebells that pulsate with colour in the sunlight.
You'll find captivating views such as the one below for around a mile and a half of the trek. You'll encounter bridge aqueducts that seem to belong to the natural environment. They sit neatly and quietly within it.  The Victorian engineers knew what they were about.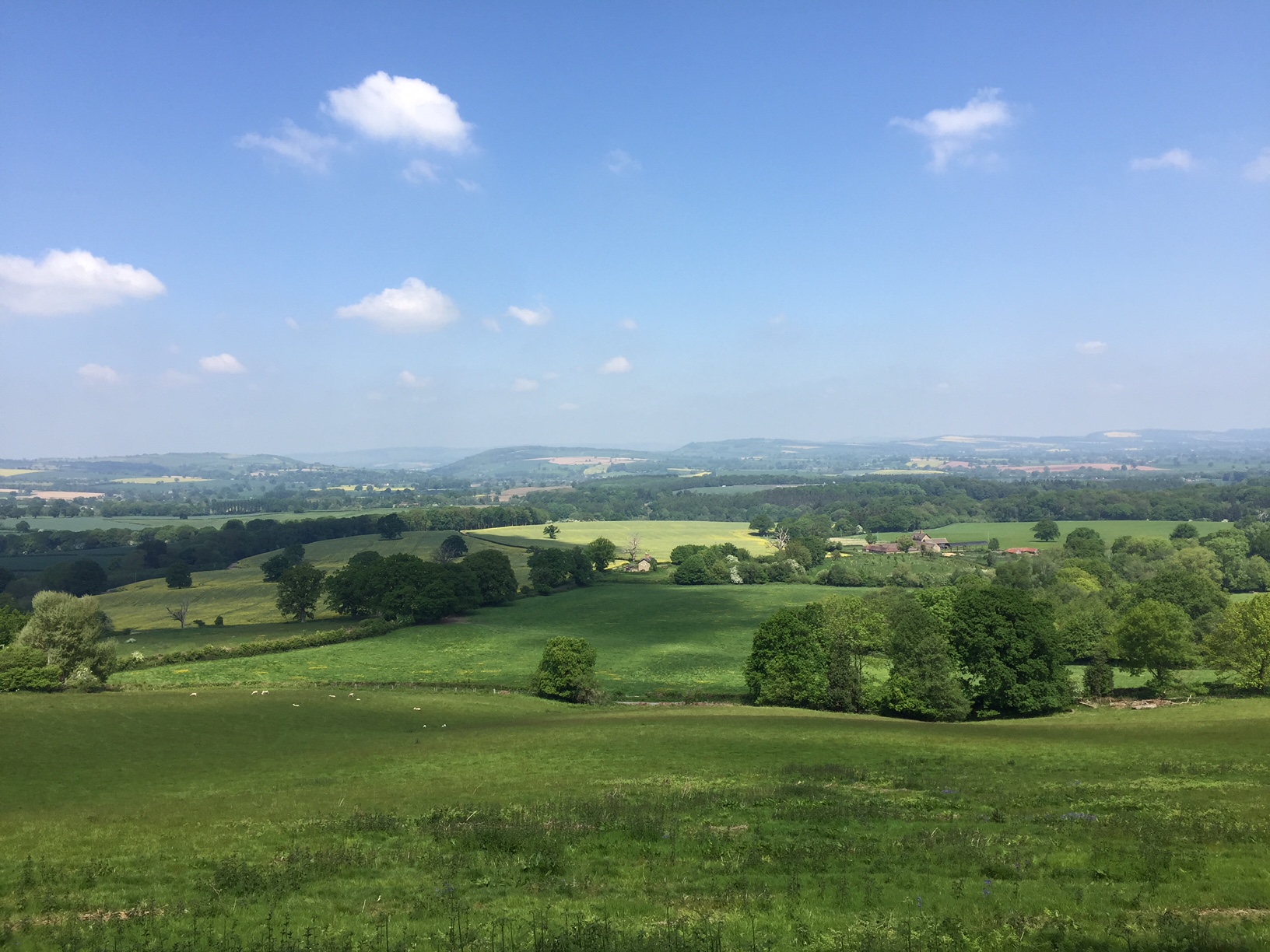 Birmingham gets its water supply through Elan Aqueduct built by the Victorians. Behind this building you get to see a view of the rollercoaster-like aspect of the bridges and stone buildings like the one below that mark the 73-mile, mostly underground, channel of water that carries water by gravity to Birmingham.
Bumping in to the brick building for the first time, having walked down through a fir-covered forest, felt like I was in a fairy tale. It looks a bit foreboding thanks to the guardrails. If you walk around to the back of the building, you'll see the rollercoaster perspective of other aqueducts.
Just before you reach this brick building there is a path uphill to your left. It's a steep climb and remember these paths are shared by mountain bike riders.
Once you reach the top you'll hit the forestry road and see the current logging operations. The forest is much denuded but the views have opened up a bit as a result. However, directly in front of you is the final climb. At the top, confront the stunning scenery of Pipe Ashton below and out to Clun Valley…and more logging!
The last leg of our walk is upon us. You've caught your breath. Literally after the climb at the top, take the left most path, which is not uphill. This mile and a half path wends it way through more arresting forest scenes through to Killhorse Lane.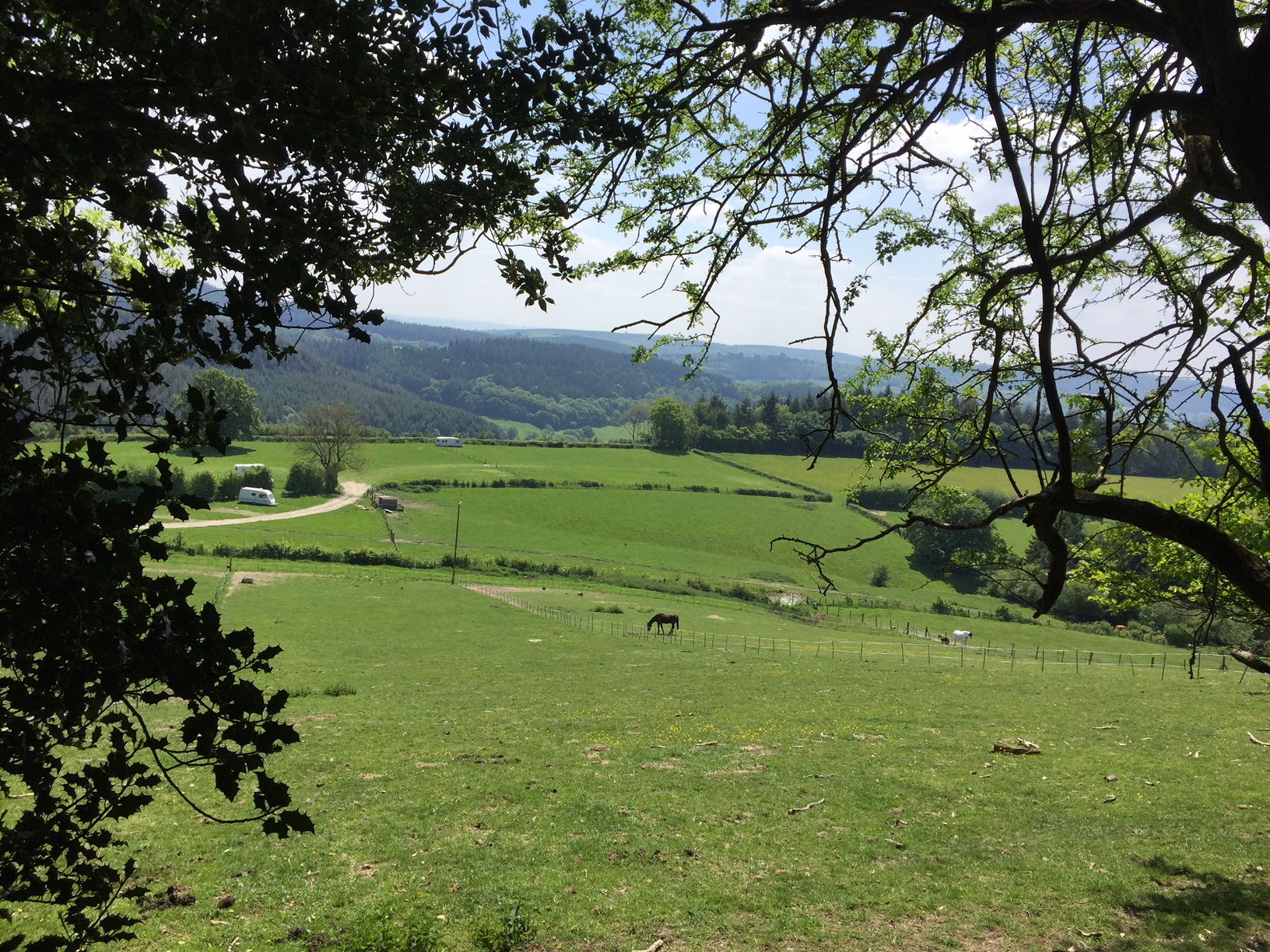 This last portion is a beaten track to the main road, Killhorse Lane and at the end on the left is Gorsty Farm and a few hundred yards away from whence we began at the 'Welcome to Shropshire' sign.