One of the best things about living in the countryside is the opportunity to learn new things.  I recently spent a blissful day at Wild Bunch, learning about flower arranging from owner and guide, Tammy Hall at her "Ephemeral Spring" workshop.
Along with the other attendees, I learned how to take flowers and make artful table arrangements and wonderful bouquets at Tammy's farm, which is nestled in a quiet, idyllic setting just outside the village of Leintwardine about 8 miles south and west of Ludlow.
We spent an entire day in her capable and assured hands having a whale of a time using foliage and flowers to get a near approximation of what Tammy created with relative ease.
The morning began around a poplar table with a welcome cup of tea in a light airy room filled with beautiful flowers. We took a moment to admire all the wood work in the room which was made by her other half.  Her husband's talent with wood is on display everywhere from the shelving through to the fireplace all made by his hand.
We introduced ourselves and learned a bit about Tammy, what motivated her to begin her odyssey with flowers and the structure of the day.
Informal and wild
A former architect, Tammy is self taught when it comes to blooms and her passion for them is infectious. She told us about her union between being a farmer and flower grower. Once Tammy and her husband decide to relocate to the family farm, there was time and space to indulge in her interest in flowers.
She read everything available and them put what she learned in to practice on the farm land; building her expertise by first making bouquets for friends, offering to do arrangements for local pubs growing in to her distinctive signature style for many weddings. During the workshop she generously shares the details about the books and authors that influenced her the most (see list at end of article).
If you follow Wild Bunch on social media you'll know her arrangements aren't the more formal kind, but using her own aesthetic it is wildly romantic, garnering a large following as her Instagram testifies.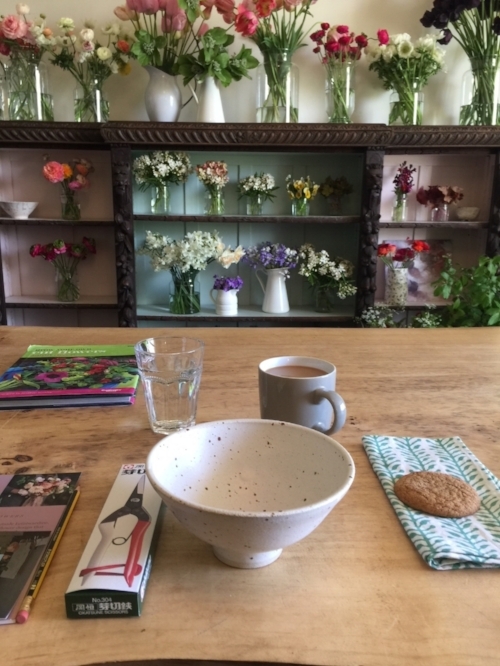 Suspended reality
Poetry and romanticism crop up frequently not only in the Instagram feed. The seasonal workshops have wonderfully lyrical names. The next course in July is called 'Suspended Reality', so called because Summer's "delicate, muted tone" is "as if we are floating in a dreamy reality."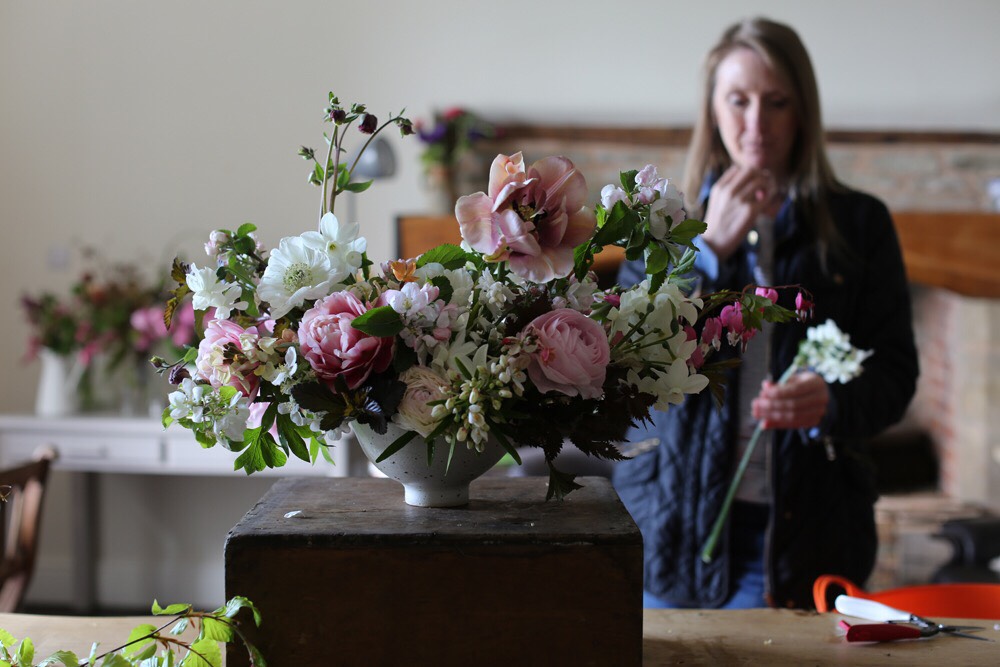 While watching Tammy work her magic to create spectacular arrangements, I am reminded of an artist painting on a canvas. Flowers are her palette. She moves around the room choosing and rejecting flowers and answers our questions easily as she gathers her flowers.
It feels like Tammy is building a vision as she pulls flowers hither and thither, building colour and texture for the table arrangement she is about to create. She organises her choices stripping leaves and laying them out, prepped and ready for arranging. She's got texture, flower form and shape and off she goes.
Naturally, she makes it look easy and somehow achievable; although, I have never arranged flowers before. I pick up a bunch from a supermarket and plonk them in a vase like other mortals but that is as close to an arrangement as I get.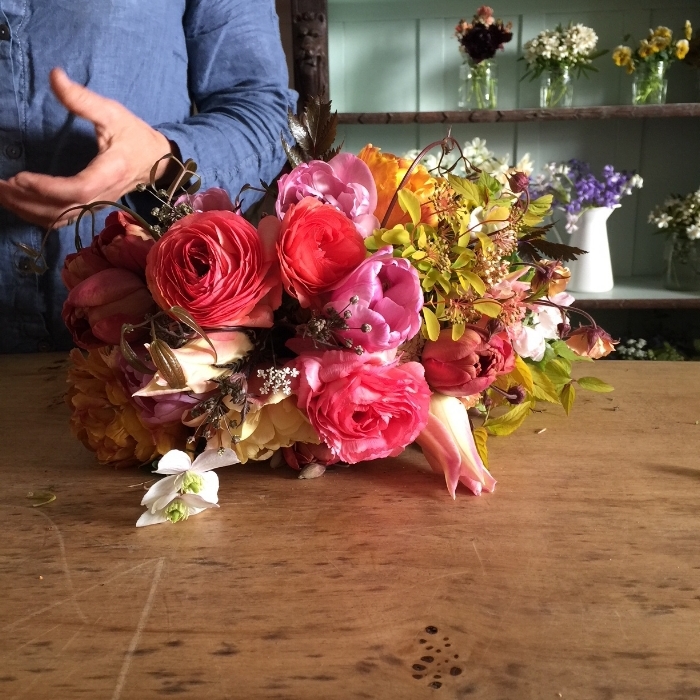 So well catered for, I'm moving in
Before lunch we all tramped out to the gardens to see her flower gardens out in the fields. This is where Tammy likes to spend her time back on the land growing flowers for her it's about going back to the nature and finding a balance. She looks for "dancing" elements to create striking form. Her arrangements are guided by what is available to her.
It was a full day but time passed, maybe too quickly. And, Tammy is such a great host, we were also well catered for when it came to food. There was an amazing spread for lunch and I filled my tummy. What is it about farms that makes one so hungry? It added to the fun that the weather was cooperative and became sunnier too. We had another break in the afternoon and I found room for coffee and two slices of Victoria sponge cake.
I think I wanted to move in by the end of the workshop. Ultimately, I love that there were no pretensions. I got Tammy's poetic vibe and that her alchemy with flowers is through genuine feeling, emotion and movement.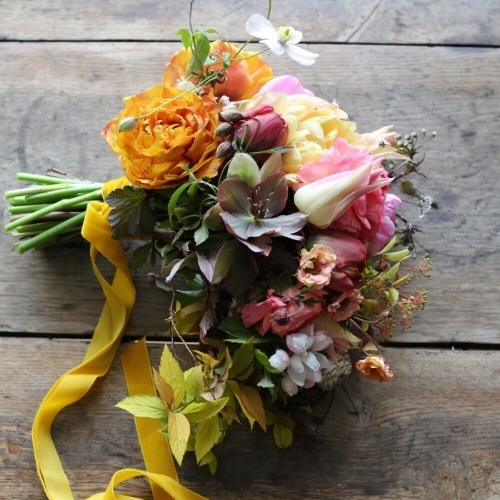 And, if like Tammy, you can grow flowers you'll get it, because you can picture and feel your way through flower designing and arranging. Post workshop I now think more organically. What I can I find in nature that I can repeat in my own floral design? The answer is plenty. I am even inspired to take a stab at growing my own.
Tammy's top influencers: