Ludlow made news recently with boosts from Simon Calder, The Guardian's top market towns to discover and an appearance on The Telegraph's list of fashionable "it" places to move that are still affordable. We know the scenery is outstanding and the sweet villages surrounding us have their own history and special story. But we cannot stress enough the importance of having independent businesses that help to drive our local economic engine. As part of our #loveludlow campaign, we take a look at a few that found a way to meet the needs of loyal customers while keeping doors open.
The pandemic was certainly tough, but many local businesses were fleet of foot, quickly pivoting to online and shifting to local pickup and delivery – a demand likely to increase, according to a recent survey by Shopify. And, while it wasn't a smooth transition by any means, the businesses we spoke to simply ploughed through, adapting, perhaps hastening planned changes. Like other retailers, they all certainly upped their social media game.
Carters' loyal fanbase
Take Carters of Ludlow, a popular, family-run butchers with a shop that lies just on the outskirts of the town, close to the A49.
Carters has been in business over 20 years' and they have a seriously loyal and engaged fan-base on social media. They are present on Instagram and have a Facebook following of over 5,000 followers. A recent pic of the staff on their doorstep gathered 231 likes, underscoring this local butcher's reach and popularity. They post regularly on Facebook (with sometimes hilarious exchanges with their regulars) about their bulk buy and weekly meat packs and accept orders through the channel.
The first lockdown saw a quite a few businesses close due to restrictions. According to the owners, Dave and Nikki, in a Facebook exchange, they did the same "to protect staff and customers". However, customers remained a top priority, they put their business on 'wheels', buying a refrigerated van and carrying out deliveries five days a week to customers. Since restrictions have lifted, the delivery option remains because demand for the service remains.
The physical space has undergone a few changes too that are likely to continue for the foreseeable future. Carters operate a system that only allows three-customers in the shop at a time and there are now screens up on all counters. And there is a one-way system for entering and exiting the shop. Safety and comfort for their customers remain paramount, so not only is there is hand gel outside the shop but also umbrellas should customers need it while queuing. Also, as Nikki says, "Obviously masks are still a must when in the shop and we have signage to try and remind people to be respectful of social distancing!"
This butcher also stocks a range of local produce that includes, meat, fruit, vegetables, bread, cakes, sandwiches, pickles, oils, nuts and snacks, eggs and some ciders and ales – all sourced within a 30-mile radius.
Black Bough moves fully online
Our independent retailers are changing not only because of the pandemic, but also because consumer shopping behaviours have changed radically and, according to Shopify, it's likely to be permanent. Online shopping is here to stay and the demand for hybrid fulfilment options like the delivery and local pickup offered by Carter's and Black Bough, a specialist retailer stocking vintage watches and well crafted, high design products, is poised to grow.
Black Bough's co-owners Alex, and his partner Adam, were slowly coming to the realisation that their bijou bricks and mortar location on Market Street wasn't fit for purpose, carrying stock that is "well made, well designed and… well priced." Over the past few years, their e-commerce side was steadily growing, but 2020 simply sent it into overdrive as customers naturally moved online, which meant change for Alex and Adam was inevitable.
Black Bough was ready for the ramped-up pace, already having a dedicated next-day delivery partner in place at the start of last year. As restrictions began, customers were able to take advantage of the two-speed delivery options.  The store, which had been closed from mid-March, was reopened when restrictions relaxed last June and used only as a spot to pick up "collect-in-store".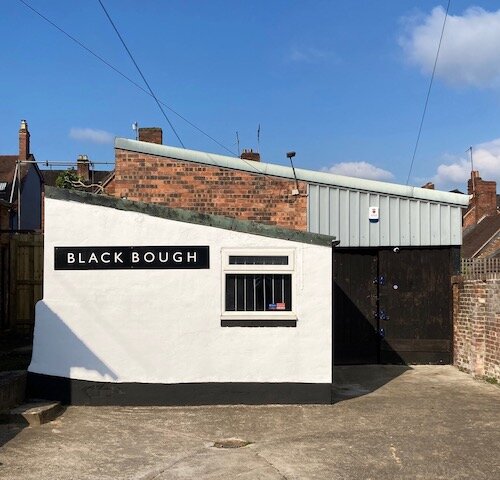 Ready for transition
But circumstances meant the need for change became more urgent. In an email exchange, Alex describes: "E-commerce operations need space for stock, space to fulfill orders, a dedicated photographic set up and space for packaging materials and our old shop space could not accommodate all this so, as a result, part of our operation was housed in our home; a spare bedroom was given over to photography, there was stock under beds and on top of wardrobes and rolls of bubble wrap in the cellar . . .  something had to change!"
Cue a new warehouse space on Portcullis Lane. It was time.  Both Adam and Alex had grown well acquainted with the space constraints of managing both online and physical retail from the same space. And as Alex wrote, "the sound of tape guns is not conducive to relaxed browsing." Their increased space is an all-around success as it allows the business to fulfil its online orders with greater efficiency. Plus, the practicality of order fulfilment (deliveries, stock accessibility and collection of orders) is made far easier.
Alex offers that while the change might seem a drastic one for their customers who didn't use their online shop before however, they weigh the benefits: they still offer click and collect for our web orders, there is dedicated parking for customers and there is the ability to expand their customer base more globally. Alex says, "Of course, we miss the interaction with customers, but the new set up we have gives the opportunity to grow our business while remaining in the heart of the town that we love."
Bread2Bake: "kept it going"
One of the biggest consumer movements to occur is the desire for shopping local. Of those surveyed by Shopify, 68% of those surveyed said they wanted to shop local because of convenience, supporting local business owners and proximity. It's a rising trend that is hopefully here to stay.
I catch Robert Swift, owner of Bread2Bake, while on the move but he is happy to chat about how his business adapted during the pandemic. Robert is straightforward about the challenges and upbeat about the changes wrought. He is a member of a family that has baked bread for six generations and various generations have seen through a couple of world wars, and, well, the pandemic is just another thing to add to the list.
But he is anything but complacent. Bread2Bake as a wholesale bakery was supplying restaurants and hotels in the area until restrictions began, overnight he lost 80% of his business. They had to think fast what to do, should they close and lose all their customers? Or take the chance and stay open? Like a lot of businesses, Bread2Bake made the decision to keep going throughout lockdown, getting a van and making deliveries covering a large geographical area.
It sounds like it was sheer hard work. The bakery was as busy with its individual retail as it had been when it did commercial deliveries. Demand came through Facebook, other social media and word-of-mouth. This bakery kept up home deliveries for 16 weeks with Robert using his own vehicle after losing the one delivery van in February floods.
Cementing a fan base and working together
It's this type of resilience that cements a loyal fan base. Robert mentions that during lockdown sometimes one person would arrange a village's orders and meet at one place to pick up the order – a case of both customer and business working together to fulfil a need.
That type of partnership was also evident with other businesses. Robert worked with Corve Dairy when customers contacted them about also getting milk. He put up a basic list of products and then he says, "We were out delivering five days a week. It was well received, and a big change for us. We were used to sending trays to hotels now sending one loaf and other products to individual customers."
Although, it was a lot of work during that first lockdown, it was still tough financially and, importantly, it kept them going. By the second lockdown, as people became less worried, they were able to shift to doing more click and collect. For Robert, it's simple — if a problem arises, try to work around it rather than let it stop you.
A new home for Bread2Bake
So, he took a leap of faith and opened a shop in Dec 2020 that's away from the centre of town but easily accessible just off the A49. There have been a bit of grievance from a neighbouring business but that loyal fanbase (1,600 on Facebook) and other supportive businesses have rallied around.
A new supermarket is set to open nearby and there's more housing development on the way, he's truly optimistic. "Thankfully it's been well received. It's progressive. We had a great Easter and there's a marked increase in wholesale in the last two weeks." Robert is hoping word of mouth will do the same for his new shop but he, along with the rest of the UK, is waiting to see what comes from the next round of government announcements on 17 May.  Whatever it is our local businesses are ready to adapt.