One of the few activities many people have been able to enjoy during lockdown is walking — locally, of course. Delivering fantastic health and mental benefits including drawing awareness to the countryside and, hopefully, causing us to pause a moment or two to think about our environment and how we can sustain it for future generations.
As numbers of walkers have increased and as we enjoy the beautiful walks here in our South Shropshire countryside, there is some impact on farm life that we should be aware of. Where a walk delivers benefits, it's also important to remember that the land has many uses, including producing our food.
Recently, the Country Land and Business Association (CLA), raised the issue about unintentional damage caused by walkers not keeping to public footpaths to avoid muddy routes.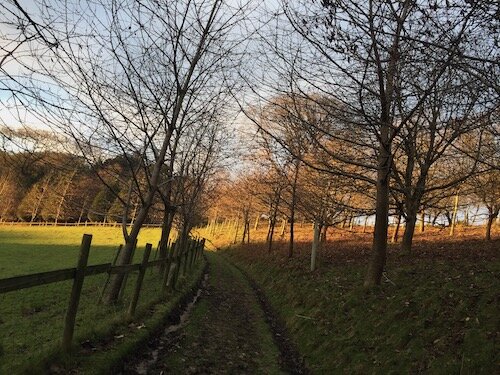 Mark Bridgeman, President of the CLA, welcomes and encourages people to enjoy the great outdoors. But wants to ensure everyone can have an enjoyable time while also protecting farmland, animals and wildlife.
Mark said, "Land is very wet at the moment and likely to get worse before the Spring, with heavy rain forecast, and with so many walkers enjoying the countryside, public footpaths have become very muddy.  Unfortunately, that means many are circumnavigating the mud and walking over planted crops, damaging food crops and impacting farmers' businesses.  Our advice is to use a decent pair of wellies — or walking boots — and stick to the route of the footpath."
The Countryside Code offers common sense advice and guidance about how to engage with our beautiful surroundings. So, to be a good walker, try to follow these six easy tips:
Know before you go
There is joy in heading out for a good solid tramp with no idea where a path or trail will lead, but in general, it's safe to say don't veer off track unless you're sure it's a public right of way. As recent news have highlighted, walkers may be unaware they are trampling on crops when they cut across fields. Before you leave home, why not sharpen your map skills by planning a route. Or, add to the national efforts by the walking charity, Ramblers, to log forgotten paths.
2. See a gate and shut it
This one is fairly straightforward but do be mindful that gates are there for a reason to keep something in or out. Please close the gates behind you and ensure it is properly closed.
3. Always put your dog on a lead
Dogs are excellent companions to get us outdoors and to give them exercise but don't imagine open fields mean they're free to roam off their leads. Dogs can be harmful to or scare livestock. Equally, cows and horses are territorial and protective of their young. The National Farmers Union advises keeping dogs on leashes unless you are chased by cattle. In that case, the advice is to take the lead off so owner and dog can leg it.
4. Park thoughtfully
We are not encouraging anyone to drive to enjoy a walk. The advice is to keep it local wherever possible. However, if driving is a necessity then do have a care. Gates may be in use even if it doesn't look it. Farmers need access into and out of their fields around the clock.
5. Check for cows or horses in fields
Be very wary especially if you have a dog with you (see point 3 above). Don't be tempted to feed horses. Even domesticated animals are unpredictable. This story by the British Mountaineering Council (BMC) offers a stark warning about the dangers, it also gives good advice about what to do if you are caught in an unavoidable situation with cows or bullocks in a field.
6. Take nothing but photos … kill nothing but time
"Take nothing but photos, leave nothing but tracks, kill nothing but time", is a popular slogan in other places and a wonderful reminder about the only thing we need to do when we're out in nature.