Stokesay Court, which shot to fame in 2007 as the principle setting for the film "Atonement", starring Keira Knightley and James McAvoy, is delighted to open the gardens to the public. Visits must be pre-booked and will include a take-away home-made picnic cream tea on two Sundays 23rd August and 30th August.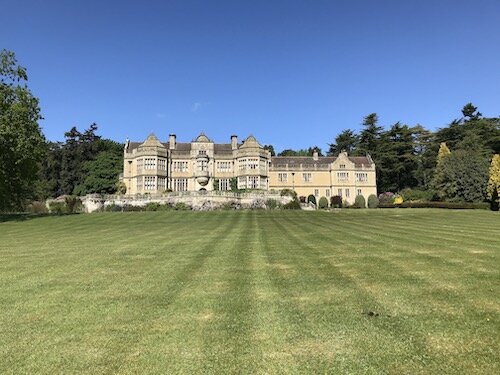 Garden with a view
The Gardens were commissioned in 1892 to coincide with the building of the present house, and laid out by Henry Ernest Milner, overlaying an 18th Century landscape associated with an earlier house.  From the balustraded stone terrace on the east side of the house, you look over lawns planted with parkland trees and laid out with serpentine walks.  Enjoy the splendid views to Ludlow and The Clee Hills.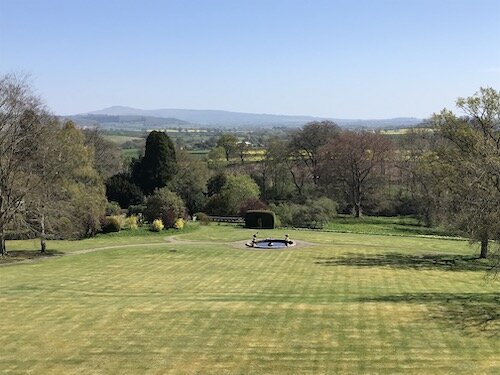 Throughout the grounds there are superb specimens of mature trees, survivors from the Victorian era and earlier.   The main lawn contains the fountain, from which Keira Knightley attempted to retrieve the broken vase in "Atonement", and which formed one of the key moments in the film.
Walk on the wild side but keep to the path!
Below the formal area in front of the house lies a wild garden.  The present house replaced an earlier one in this area, called the Stone House.  A small balustrade and a flight of steps are all that remain, but some stones were removed to make a once romantic Grotto. Polystyrene enhancement was introduced during the filming of "Atonement", and the last traces of it still remain in situ.  All of this area is kept fairly wild for the benefit of the abundant wildlife, and we ask our visitors to keep to the paths.
The large pool is part of a chain of pools, dating anyway from the Stone House era, and possibly earlier.  It is where Keira Knightley dived in, and it is deep. The attractive boathouse is believed to have been constructed in the 17th century.
An earlier landscape greets you on the opposite side of the back drive with a hidden ice house (sadly not on view for H&S reasons), but remains of associated stonework is clearly visible.  There's a magical waterfall with a viewing platform looking towards the handsome bridge on the front drive.
Walking back along the lower side of the pool you cross a small bridge and join the path alongside the upper chain of pools.  From here you can double back to rejoin the main upper gardens.
How to book
The toilets will be open.  Well behaved dogs on leads are welcome.  Disabled access is limited as the paths are uneven.
Full details, times of entry and how to book are as follows: