The Ludlow area is blessed with spaces to trek, climb, race, canoe, wild swim, zip wire and on when it comes to outdoor activities for the family. It's summer and there are any number of places to keep you and the family buzzing from endorphins. Just be sure to book ahead and, plainly, stay safe while doing it.
1. Oaker Wood Leisure, Leominster
Oaker Wood Leisure is an outdoor activity and glamping centre just 15 minutes drive from Ludlow. Located in 175 acres of woodland it is a perfect location to be out in the fresh air, maintaining social distance and enjoying adrenalin-filled activities as a family. Oaker Wood have introduced a range of measure and procedures to ensure the safety of customers and the Oaker Wood team, which include: all activities must be pre booked in advance; arrivals times are staggered and numbers on the site are limited; groups are not mixed and so your family, or social bubble will stay together. All visitors wash hands on arrival and hand sanitiser is used before and after each activity. All activity equipment is rigorously cleaned between groups.
Activities for all ages
Activities are on offer for families include Quad Trekking (from aged 10), High Ropes Adrenalin including Zip Wire, Monkey Climbing and Gladiator from 7 years old and Paintball from 8 years.
Oaker Wood also has multi-activity days for children 7-12 years and teen activities from 11 years. Book your child in for a full day of adventure for just £25.
Children will be groups of 10 and will experience a range of exciting adventure activities each day including: Zip Wire, Climbing, Assault Course, Woodland Games and Inflatable Fun.
Just be sure to book ahead for all activities and to learn more about the children's holiday club, by heading to our website.
These pods are made for glamping
We offer glamping accommodation for family groups. Bookings are for groups of 10+ people so perfect for 2 or 3 families travelling together while maintaining social distance — as each family has a pod.
---
2. The Great Escape Company, Hopton Castle
We are an outdoor adventure company based in a unique location in an area of outstanding natural beauty in South Shropshire that is great for walkers and those wanting to expend some energy.  We want to do it while keeping you safe. A few of the things we are doing include:
•       extra handwashing facilities and hand sanitisers around the site
•       additional signage about Covid and preventing it's spread
•       social distancing during the safety briefings
•       masks offered to clients for the zip line where social distancing can be tricky on the platform
•       more stringent cleaning measures in place, of both equipment and shared public areas
•       completed the Visit England 'We are Good to Go' requirements
Zip wire anyone?
We take anyone 5 to 90 years!  They will enjoy The Great Escape's newest activity where they will soar like a bird on one of England's longest zip lines through the stunning south Shropshire countryside.
They can also experience our new Tiger Challenge Course which is a physical and mental obstacle course that sits 30 – 90cm off the ground, extending to the length of three rugby pitches. It features 20 interconnected activities nestled under the canopy of The Great Escape wood. It will test balance, strength and determination!
Booking your activities and accommodation in advance
Clients must book in groups of 8 or more in advance. We monitor the numbers on site at all times to comply with Government guidance.  We also ask for payment via BACS before arrival to prevent the handling of cash and credit cards.
Clients can book our accommodation directly through Airbnb or Great Hagley Estate .  Our calendars are kept completely up to date.
---
3. Shropshire Raft Tours, Ironbridge
Shropshire Raft Tours welcomes you to our canoe/kayak hire, mini-raft hire and mega stand up paddle board hire along the beautiful River Severn located in Ironbridge, Shropshire.  Our canoe/kayak hire is available as a one- or two-hire paddle around the gorge enjoying the beautiful scenery and viewing the Ironbridge from a totally different perspective on the river.
By river and by land
We also offer full-day hire from Atcham to Ironbridge on a 14.8 mile route for those feeling a bit more energetic!  Our mini-raft hire and mega SUP hire is available on a 7.5 mile route down river, passing through the magnificent s-turns in Leighton where there is an abundance of wildlife to see such as: swans, herons, kingfishers and even deer around the old power station site as you arrive in Ironbridge.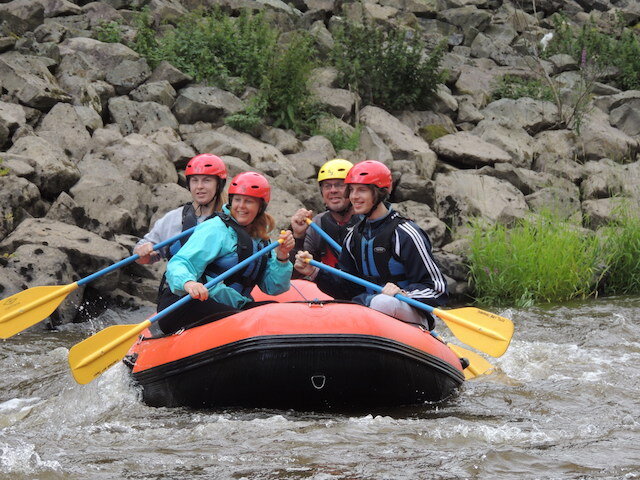 New for this year is our mini-raft little rapid run which is a one hour self guided trip on the river, with a small rapid to negotiate, and places to stop along the way to magnet fish.
Electric and manual cycle hire to Bridgnorth along a cycle route is also available for those looking for an activity on dry land.
Safety first
We have been awarded the 'We're good to go' Industry standard approval from Visit Britain in recognition our adherence to government and industry Covid-19 guidelines. We have ensured there are processes in place to maintain cleanliness and aid social/physical distancing.
For customers on our full-day hire activities where transport is required, we allow only one social household at any one time and have installed a screen in our minibus that separates the driver from the customers and our minibus driver also wears a mask.  The minibus is sanitised after each use to ensure a safe environment for our customers.  Hand sanitiser is available for our customers to use and all equipment, including paddles and buoyancy aids, are cleaned and disinfected after each use.
Easy to social distance
After a long period in lockdown our self hire canoes/kayaks and mini rafts are proving extremely popular as they are a great way for families to enjoy time on the river and enable friends to join them in separate boats and social distance on the river.  These are suitable for ages 4 and over.
Our mega stand-up paddle boards are great fun for families who are a bit more adventurous, following a 7.5 mile route down the river and are suitable for children aged 10 and over.
For those looking for an activity on dry land we offer a small selection of electric and manual cycles for hire for ages 14 and over and these are also a great way for friends to enjoy time together whilst still maintaining social distance.
New for this year is our mini-raft little rapid run.  An hour on the river for families with children aged 10 and over, and between 3-5 people per raft, you can stop along the route and have fun with magnet fishing to see what treasures the river has to offer.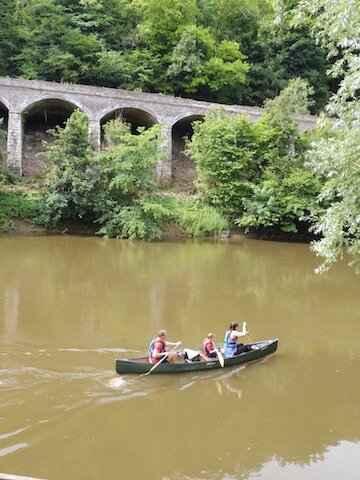 Come prepared for weather and activity
For all activities we ask that customers dress appropriately for their chosen activity with sensible footwear and clothing as we all know that the good old British weather can change at any time.
We send an email to all customers prior to their visit providing information on what they will need for the day.
We stress that Sat Navs in the Gorge are not reliable so it's best to look out for signage for the Museum of the Gorge when arriving in the area. This will direct them to the Wharfage car park where we are based.
We are only taking pre-bookings made either online or by calling us direct and are staggering arrival times of customers.
Our Little Green Kiosk where we work in the car park is not there this year as we felt it might encourage more people to congregate in a small area however we are still operating from the same area where our minibus and canoe trailer are parked.  When on site we ask that customers maintain social distancing.
---
4. Top Adventures, Stottesdon
We want customers to know we provide awesome adventure experiences and bespoke activity programmes for families, friends and corporate groups. Whether it be a canoe trip on the stunning River Severn, a stand-up paddle boarding lesson, laser tag, archery or climbing we have a whole host of various activities for you to choose from. Our highly qualified staff and our undivided personal attention to detail will make your day out with us an unforgettable experience.
Due to Covid-19 we have followed safety guidelines and put measures in place such as staff in PPE, equipment cleaned after use, single use towels in bathrooms, bathrooms thoroughly cleaned and lots more! As well as giving you a TOP day out, we want to ensure both you and our staff stay safe while doing so, which is why we have put strict measures in place during this time.
No age limit on fun!
We cater for all age groups! The great outdoors and adventure have no age limit! A favorite amongst the kids must be laser tag in our outdoors woodland arena, they get kitted up in camo suits and then must work as a team to beat the enemy in team-based challenges. A favorite with adults is our River trips on the stunning River Severn. It's a beautiful journey which can be completed on stand-up paddle boards, canoes and kayaks. We also like to stop on the riverbanks for some refreshments!
Come dressed in a positive attitude for an awesome time
In preparation to the visit we want the customers to understand fully what guidelines we have in place upon arrival. This will be given to them upon booking. This is the same for when they are on our site. We also want them to come with excitement and a positive attitude ready to have an awesome day!
Camping for groups is available, they can bring their own tents or we can supply them.
---
5. The Viking Games, Ewas Harold
We discovered Viking Games recently on Twitter and it looked so quirky, we thought we had to include it. Located South West of Hereford at Ewas Harold, it's a little further away than our other choices but at just over one hour's drive from Ludlow, it's a great option for a day trip.
Go Nordic and try your hand at Icelandic Bullrings, Norwegian Stige, Swedish Kubb, Finnish Molkky and the ancient Viking traditions of axe throwing and archery. Other activities include Battlelands Paintball and Laserclayz and you can also go glamping in one of their beautiful Lotus Belle Tents.
The Viking Games has the Visit England "Good to Go" mark of approval so is following government guidelines with regard to safety and social distancing. For more information, visit their website