During lockdown, I think it's really important to have some sense of normality or to have something special to look forward to each week, a little pick-me-up if you like.
For me it's the three-course meal kit from CSONS (or the Green Café as it's known). Prior to the pandemic, every Sunday it was my go-to place for breakfast, where I could choose from a full English, fluffy pancakes covered in fruit or the spicy Lebanese-style breakfast. I really missed not being able to visit during our first lockdown.
So I was ecstatic when I saw that CSONS came up with the brilliant idea of three-course meal kits. Finally, something to look forward to each week! I've ordered a kit most weeks since it began. CSONS is now on week  30 of providing these amazing meals. Back in July, I even took a couple of kits with me to London for my cousin's birthday.
How does it work
CSONS provides everything: the menu, the recipe, instructions and all the ingredients. All you have to do is to cook it. You don't need to be an amazing cook either, the step-by-step instructions are super easy to follow (even my kitchen-phobic cousin managed to cook the three courses without setting fire to anything!! ). Nor will you need a kitchen full of fancy gadgets — generally a saucepan and a frying pan will do, which means no slogging away in the kitchen prepping food and only minimal washing up, ideal!

Instructions: How we do it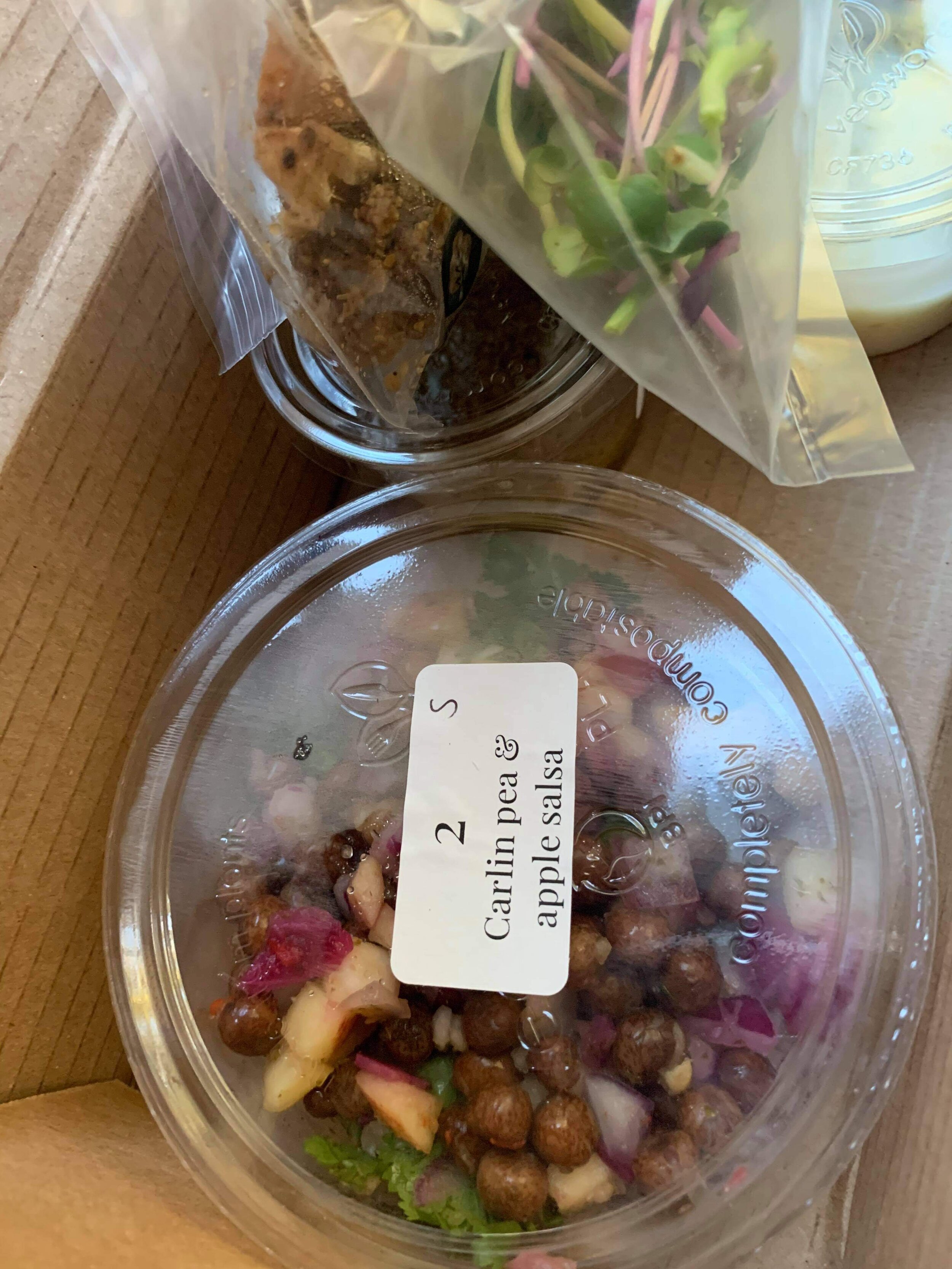 Containers: All contained and compostable
Chicken Shwarma, immensely popular dish
Mexican eggs: Not just for breakfast
There's a new menu every week, usually with a theme to each one. For example, Swedish-style meatballs for a Scandanavian theme; another was Caribbean with jerk chicken or their very own ever-popular chicken shwarma, a regular feature on the cafe's menu. A personal favourite so far is the pheasant and chorizo meatballs with polenta which was delicious.
What's even more brilliant is that all the ingredients are locally sourced: milk from Mawley farm near Cleobury; meat from Keysells farm at Tenbury Wells, even the nuts and seeds are sourced locally from The Ludlow Nut company.
Each menu also has vegan and vegetarian options catering to everyone. Priced at £21 for three courses, they're perfect for special occasions such as birthdays or anniversaries, particularly now that it's not possible to go out for a meal. Plus, it works well as a little treat. Maybe even swap your regular takeout and give this a try instead?  You don't need to buy all three courses if you don't fancy, you can order an individual course.
Collection is every Friday from the Green Café. Order online and book your time slot for collection, or they offer a delivery service every Thursday for the Ludlow area. Food comes in containers that are all completely compostable so environmentally friendly too — yet another great reason to get ordering.
---
Order a delicious meal from their new website at CSONS 2 Go or call 01584 879872