Shaun Ward, owner of Ludlow Gin, is in typical whirlwind mode when he blows in to the Church Inn to talk to us about Ludlow Gin and our favorite market town (no prizes for figuring out which one it is). Shaun is a super fan of Ludlow and his brand is infused (pun intended) with the quality, feeling and colour that represents a Ludlow lifestyle.
Ludlow Gin, now the largest craft distillery in the West Midlands, and LGL are collaborating on a new campaign to support local businesses and encourage tourism to the town. This is a difficult time for so many in the sector and many businesses have tried to adapt to a new normal of constant change.
Local businesses clearly have a better chance of withstanding the fallout from Covid-19 by working together and supporting each other. It's an ethos that both LGL and Ludlow Gin believe in and are working towards. Ludlow Gin's collaborative spirit is about joining with people and brands that Shaun is passionate about including many in the hospitality sector that have been particularly hard hit.
Growing the tribe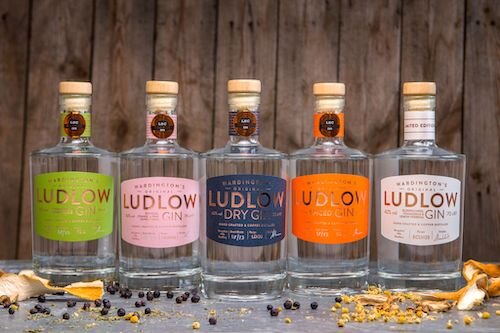 Working with other artisans in the area is a natural fit for Ludlow Gin. Shaun describes it as, "spreading the love and growing the tribe". Ludlow Gin is something new and like LGL, it is also about bringing people to our area.  Shaun is always on the hunt to find other craftsman to collaborate with. The brand is all about handcrafted luxury and the artisans he works with exemplify the same.
Shaun works closely with his local tribe and the link up has produced some grand merchandise like handmade, glass cocktail stirrers and leather coasters plus fabulous Christmas crackers and ornaments. In fact, every order of Ludlow Gin gets you a free Nutcracker ornament along with a letter to Santa.
Shaun is the perfect ambassador for both gin and for Ludlow and bubbles with enthusiasm when he talks about them as they are so intertwined. His Ludlow 'Gintown' story tells of his own history with Ludlow as a director of music at St Laurence's Church and his background and training in Conservation of Historic Buildings.
His affection for the town is clear but his empathy is all encompassing. Shaun says, "Ludlow has an incredible ability to regenerate … the economic tension that feeds a more wealthy clientele still misses out the people who are not wealthy and have real poverty.  We're supporting charities as well as music and the arts."
So this year we'll have you know that in spite of it all, Christmas has not been cancelled. We all need some joy during this time and Ludlow Gin is bottling the spirit of the season and sharing some love just when we all need it.
The pandemic is unrivalled in our times in how destructive it has been on so many levels across the board, we find the silver linings where they are and in this case here in Ludlow, we feel it to be about being better together.
---
Click here to shop or learn more about Ludlow Gin.
Facebook
Instagram
Twitter
---