It's a different kind of Christmas holiday season this year. The pandemic has hopefully encouraged a brand new way of thinking positively about ourselves, those we love and where we live. This winter everyone is encouraged to stay and to spend locally, if possible.
To help make gift buying a whole lot easier, many Ludlow businesses and services have launched a gift voucher scheme. That means gifting your loved ones all manner of beauty, wellness, experiences and retail therapy for them to make use of when restrictions lift and at their convenience.
So, if you can't choose between the bamboo socks, the Glenmuir jumper or the Barbour belt for him or never seem to get the sizing right for her, then a gift voucher is the ideal solution. A great idea is to jumpstart someone's New Year resolutions and present them with the opportunity to sharpen a skill or just have some fun with a cookery class. Perhaps a yoga, personal training or therapeutic session? The possibilities are endless. Also, you don't have to break the bank either, vouchers at Bodenhams, for example, start from £5. For more ideas and other outlets head to our gift voucher page.
To help you get started, Lucy and I created our own wish list of a few fresh gift ideas:
Every year we buy a collectable decoration for our Christmas tree so this little gem is one we're gifting ourselves this year. This Christmas ornament Ape Dell'oro is an exquisite addition to our tree (hung up high away from sticky fingers or wagging tails) or, as The Silver Pear suggests, 'perhaps hung above your dinner table or in a window'. Each is made from fine porcelain and hand decorated with impeccable detailing and finished with metallic gold. Lucy
How many passwords do you have scribbled randomly across several dog-earred notebooks? Settle for this sketchbook hand-bound in beautiful, vintage Liberty bookcloth, perfect for saving and organising important notes. It's also a lovely gift for the artist in your life or for a friend as a memento of their visit to Ludlow. Lucy
Board and card games are always a part of our family Christmas (confession, we play Rummikub and Uno all year round). As we'll be spending a lot more time at home this Christmas and can only dream of holidays abroad, then this Travel Quiz game by Ridley's is the perfect antidote. Lucy
I covet this yellow cashmere beanie, which I expect to keep me toasty warm on my planned daily walk this winter. This stylish 100% cashmere lux item will help you stand out in a crowd. I suggest picking up the matching wrist warmers to make it the ultimate gift for someone special. Claire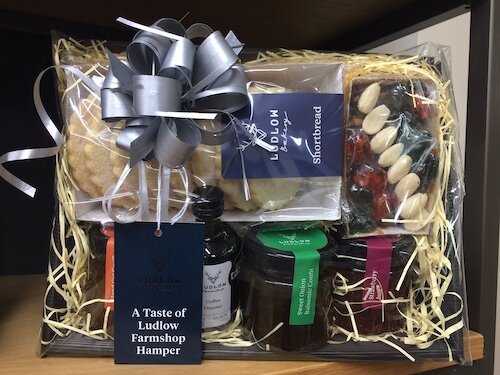 For the foodie lovers: an edible gift in the form of a hamper to consume the contents over the holiday. This is the gift to send to relatives and friends from further afield to give them a taste of our local delights. Plus, the range of hampers from £10 to £75 means you are sure to find something suitable for a range of palates or use the DIY kit they have available to select items yourself. Claire
Indoor plants and/or pots are a perfect gifts for gardeners or the uninitiated. Many succulents are hardy enough to withstand benign neglect by the more forgetful amongst us! Plants provide an instant lift to any interior. For a truly personal touch, create a tray of a few selected plants and add a book like the excellent Prick, (order a copy through your local bookstore) for knowledge and care. Also Ludlow Homecare has a great selection of plants and pots. Claire
Not another walk! For dog lovers everywhere what better reward for your favourite friend than than this hand-stitched leather collar from local craftsman, Matt Fothergill. Beautifully embossed with game birds, you can choose from four different colours, brass or nickel fittings and seven different stitch colours. A thank-you to your dog for being the perfect co-worker! Lucy
This little chap sums up just how we all feel right now and is sure to raise a smile. Daisies Gift Shop on Attorney's Walk has a fun range of homeware, gifts and jewellery and is the ideal spot to find thoughtful presents and stocking fillers. Lucy
Artisan jewellers, Karen and Ben Lambert, design jewellery 'that speaks the language of flowers'. If this pandemic has taught us one thing, it's the importance of protecting our friends and family. It's why this 'Heather Pendant' from Flower & Fable is also on our wish list this year. According to Karen, carrying heather 'will attract positive energies, good luck and protection from danger'. Each petite flower charm is cast from a real flower and comes in sterling silver, 9ct gold or 18ct rose gold. Each pendant includes a postcard detailing its botanical folklore and floriography. Lucy
Well, there can't be many of you who expected to spend so much time sitting at your home desks this year. Or, whiled away many hours lusting after home office interiors on Pinterest! I think this ingenious smart book light from Holloways Period Home Store is a stylish addition to any working space. When closed it looks like a wooden book, but it actually opens to a full 360-degree with cleverly concealed magnets. Claire
This is one we're both recommending as a way to celebrate the end of the year with Ludlow Gin's limited edition liqueur in some fabulous cocktails. The Betelguese Damson, Mulberry & Winter Spice Gin sounds divine with its delicate and aromatic winter spices: orange, clove, ginger, nutmeg and cassia bark added to Ludlow Dry Gin, yes please. Make ours a Negroni! Lucy and Claire