1. How did Twigs Flowers and Gifts come about?
Theresa, the owner, has been doing floristry for over 25 years while working as a psychiatric nurse. When the stress became too much, she set up Twig's Flowers and Gifts here in Ludlow. The shop is named after Theresa's childhood nickname, Twigs.
2. It's Twig's first anniversary and there's an exciting new venture, what have you got in store?
There is now the 'Bar at Twig's', which is truly exciting. It is located above the floristry shop and will serve a variety of different drinks including locally sourced ales and cider. Staff are ready to serve you with a big friendly smile ( even if it's hidden under a mask). There are also plans to use the space for flower workshops and hopefully to bring the community together, all while adhering to government guidelines, of course.
3. We understand Covid-19 had a personal impact, can share a bit more about that and the practical measures you are taking to deal with the ever-changing pandemic regulations?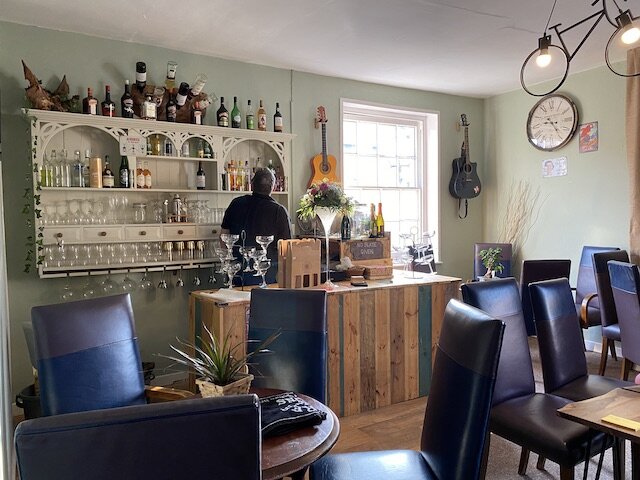 Unfortunately, Theresa's husband contracted the virus and was admitted to Shrewsbury Hospital. The care he received was excellent. Theresa and her husband have done some fundraising for the respiratory department at Shrewsbury as a small way to say thank you. We're dealing with the regulations by controlling the number of people who are in the shop. We wipe down frequently touched surfaces regularly, and have track and trace up and running in the bar. Hand sanitisers are placed throughout the premises. We are also taking orders via Facebook, phone and email.
4. What is a best-selling product in the shop at the moment?
We love arranging the living vases, each living vase is unique to the customer's request. The living vases are such a brilliant gift and we have definitely seen lots of smiles as a result of receiving them.
---
To visit Twig's Flowers and Gifts website click HERE
or follow them on Instagram and Facebook
For more info on the The Bar at Twigs click HERE