Start us off by answering the three Ws: what is Be Endurance, what does it mean? Why Be Endurance and why Ludlow? When is your next event?
Great question to start. Be Endurance is made up of three Shropshire athletes who have raced across the globe over the past 15 years; between us we have taken part in triathlons, duathlons, marathons and cycle racing. We are passionate about our sport and are equally as passionate about the area where we grew up and understand what an exciting, challenging but stunning part of the world Shropshire is, especially when you are on your bike or running.
We aim to deliver high quality events in the Shropshire area that offer athletes of all abilities the opportunity to compete in some of the most amazing scenery that the UK has to offer.
Having raced since 2000 at events, large and small including Triathlon World Championships, we understand what is important to the athlete as well as the spectators and our aim is to create events that generate a UK reputation and attract the highest level of athletes from across the country and wider. Our next two events are the VeloSalopia on 8th July and Ludlow 10K evening run on 14th July.
Let's talk about the races, how many do you hold currently and how does our race terrain stack up against others across the country?
We currently host six events :
The routes around Ludlow and the surrounding countryside are one of the main reasons we started Be Endurance. We wanted to host a unique and different event. All three of us had raced at events around the world and we always commented on how the routes back home were much harder.
When we first started planning Storm The Castle, we knew it would be one of the toughest events in the UK.
We love the diversity of age and ability that participate in the races. Who is drawn to enter the races and are they mostly competitive?
Our events are challenging, no doubt about that. Whilst our goal has always been to attract athletes wanting more of a challenge than the run-of-the-mill events, we have remained committed to supporting athletes getting back into an active lifestyle.
In fact, we offer training plans for our events and have held coaching weekends on the course for Storm The Castle, to enable anyone talking part to feel confident and well prepared.
What kind of challenges do runners encounter?
Well, the one part of StormThe Castle that athletes often discuss is the "lactic ladder" – the steps through the forest up to the top of Whitcliffe. It's tough!
One of the consistent themes throughout all of our events is the scenery. Athletes are rewarded by stunning views of the countryside at various points on our event courses. I must admit, I had never taken in the view from the top of Bury Ditches in Clun until we started planning Storm The Fort. That view is EPIC.
Tell us about running as a sport, its rise in popularity and what it says about our lifestyle here?
The beauty with running is that all you need is a pair of trainers, and off you go. Anyone can run, it doesn't matter how fast you go. Running is definitely growing as a sport, and Ludlow is lucky to have a great running group called the "Ludlow Runners" that support all levels and abilities.
How do you work with the community in Ludlow?
We are local lads. We are passionate about the community. All three of us may not live in Ludlow anymore, but as the saying goes "you can take the boy out of Ludlow, but you can't take Ludlow out of the boy!" Our families live in and around Ludlow, and we are totally committed to supporting the community.
We had three objectives when we started Be Endurance:
Put Ludlow on the Multisport map
Create a series of events that are unique and challenging and sustainable
Bring revenue to the town and surrounding area
We have worked hard and stayed focused on those three objectives. A good example of our commitment to the community was the recent Beer Run. A departure from our usual events, but designed specifically to attract new faces to the Spring Food Festival, and for us to raise money to donate to local charities.
The Beer run was a great success, and will grow – if you didn't get chance to join us this year, check it out for next year. Join up with a group of friends, enter into the spirit with fancy dress and then enjoy the Spring Festival.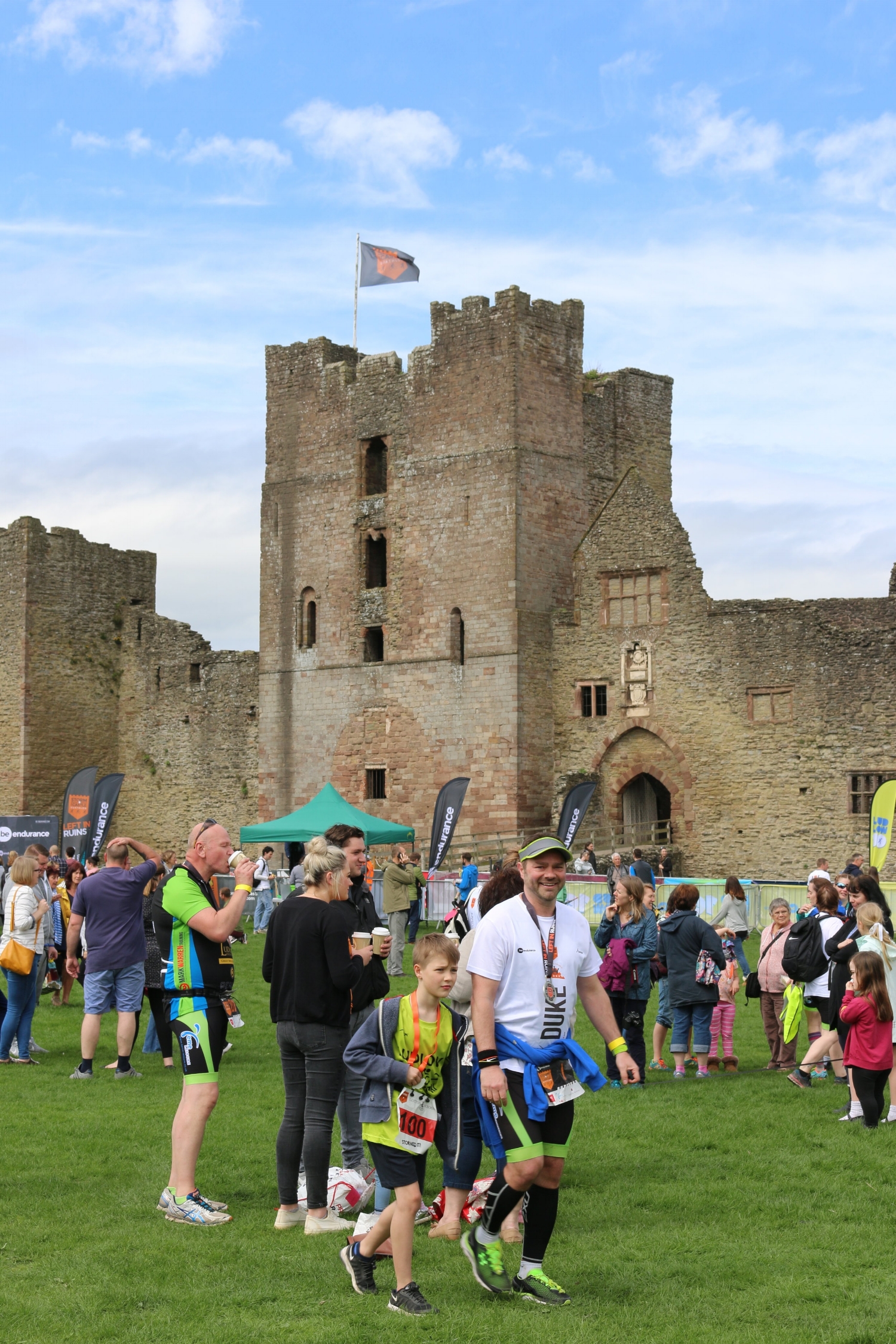 What does the future hold?
We've learned a lot over the past four years. If you'd told us four years ago that Storm The Castle would be voted the best Multisport event in the UK, and that we would be awarded winning event organisers, we would probably have laughed at you, and thought you'd had one too many pints of Ludlow Gold!
However, we constantly strive to improve and to ensure that the athlete experience is excellent. The Be Endurance tagline is "U at the centre" and we are fiercely committed to that. We want the events to get better and better, and we want to continue to inspire people to choose an active lifestyle.
Whilst it's nice to wonder what the future will hold, we have two events in July that we are fully focused on : VeloSalopia on July 8th and Ludlow10 on July 14th – so, right now the future holds a lot of hard work to ensure that we deliver two great events for the town this summer – and then onto Storm The Fort.
We're looking forward to the end of the year, and having a rest and then planning for 2019 to be even bigger and better.